Multi-dose containers
Perfect dosing with the Intelligent Dosage System
SECRO 3000 – the intelligent dosing tube for liquid preparations. Easy, intuitive handling and reliable and exact dosing make the STELLA dosing tube the perfect alternative to the conventional glass dropper bottle.
Spontaneous dripping is triggered by pressure on the tube body. The drop sequence can be accelerated or decelerated as desired, so that the drops can be counted easily. Relieving the tube body ends the dripping spontaneously. Drip residues adhering to the drop outlet are sucked back into the tube. The screw cap ensures the tightness of the package and secures tamper-evidence.
Screw cap, dropper and container are delivered assembled as a finished packaging material and packed in trays, which is immediately ready for automatic insertion into the filling machine.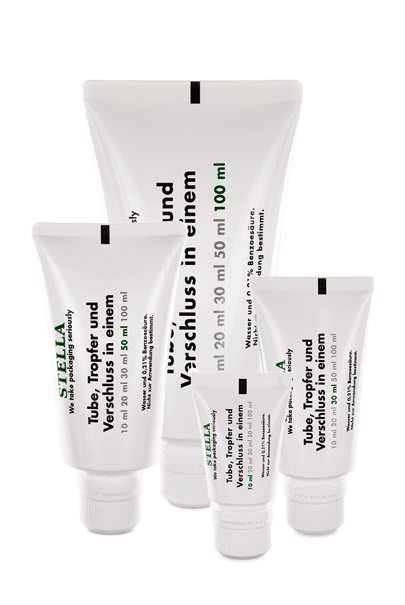 Pharmacy, Diagnostics, Medicine, Chemistry, Food and Lifestyle
Tube body and screw cap made of polypropylene (PP)
Dropper insert made of polyethylene (PE)
10 ml, 20 ml, 30 ml, 50 ml, 100 ml
Decorated with in-mould-label on request, but also with integrated high-barrier-layer made of aluminum
On request also in child-resistant design